NJ Nuisance Wildlife Removal Service
Wildlife Can Be Dangerous
Some things look better from a distance. That is certainly the case with wildlife. In close, confined quarters, these animals exhibit dangerous, destructive behaviors. Wildlife has no respect or concern for your property or your safety. These animals have a single-focused instinctive behavior limited to protecting themselves and their young. In close quarters, wildlife views people as a threat – and they respond accordingly.
Wildlife Can Cause Extensive Property Damage
Wildlife removal is a dangerous business. For the uninitiated, it takes little effort to make matters go from bad to worse, causing, even more, property damage and risking your personal safety. Wildlife has razor-sharp teeth and claws that can slice and dice your skin like a crazed chef. Contained wildlife attack with little or no provocation – and when they attack, they attack hard. And it's more than just the cuts and scrapes that can send you to the hospital for a few stitches. Wildlife carry a host of dangerous diseases including rabies, distemper, and roundworm. As far as property damage, they can ruin insulation and cause other extensive damage in the blink of an eye.
Customer Reviews
By Michael S.
Mercerville, NJ

"I didn't know who to call for the problem we were having (squirrels in our..."

"we were having a problem with mice and squirrels in our attic.. i saw your..."

By Miriam H.
North Brunswick, NJ

"recommendation from another pest control company who did not do this work."

By Dona A.
Englishtown, NJ

"THE WORK IS NOT COMPLETE; THEREFORE I CANNOT ANSWER ALL QUESTIONS YET."

By Michelle T.
Old Bridge, NJ

"Please note Jill, Matt and Rob were the most helpful and patient workers..."

"Tom, Will and Giovani were ALL excellent; they were courteous,..."

"I live in a condo in Edison, NJ. The property management company selected..."

By Michael M.
Spring Lake Heights, NJ

"Tyrone was our tech and he was great. Very polite and courteous"

"I have been using Cowles for 10 years for pest control at this location..."

By Catherine S.
Belmar, NJ

"Everyone at Cowley's are true professionals. Very happy."

"2 years ago, you got rid of my squirrel infestation, but I guess the word..."

By Ruthann R.
Neptune, NJ

"Always satisfied with the service and a great job done by all. Would high..."

By Vicki B.
Asbury Park, NJ

"Chris was friendly and very helpful!"

"We had squirrels in our attic and you came to the rescue! We also heard..."

By Blair H.
Little Silver, NJ

"You guys caught the raccoon and took her to a better place - while sealing..."

"I do have one concern. Only one mole was trapped before the traps were..."

"Techs Explained All Aspects Of Animal Removal And Attic Sanitization Thank..."

"Used you at prior residence for racoon removal"
Safe and Effective Removal of Nuisance Wildlife
Cowleys Pest Services offers homeowners humane, professional wildlife control services. Equally important, we focus on wildlife exclusion services so once the wildlife is removed, it stays out. The trauma and headache of one wildlife infestation is more than enough. So we do everything we can to make or wildlife removal and exclusion treatment a one-time fix. Our objective is for wildlife to choose other nesting areas besides your home by creating barriers and making your home inhospitable to wandering animals.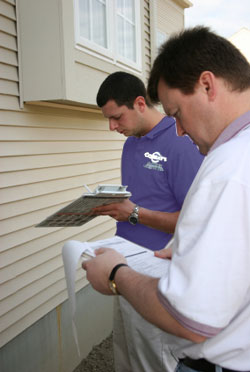 Cowleys Offers Peace-of-Mind
By choosing Cowleys Pest Services, homeowners have the peace of mind of an established business that is part of the Cowleys pest control family. We are proud of our two-decade reputation of exceptional customer service in New Jersey. When it comes to wildlife control, Little Rascals is fast and effective. Our no-nonsense rapid response time ensures that you and your family are safe from wildlife and that any property damage is minimized. We specialize in 24-hour emergency animal removal services throughout central New Jersey servicing Edison, Woodbridge, Lakewood, Toms River, Brick, Trenton, Piscataway, Old Bridge, Middletown, Princeton Junction, and the surrounding area.
Experienced and Certified Trained Wildlife Technicians
So, if you suspect wildlife in your house after hearing scratches, screeches, growlings, and other unfamiliar noises, or hear the pitter-patter of paws in strange places, or start smelling strange odors, contact us today. We'll take care of the rest. Our highly experienced and certified technicians have the know-how and latest equipment and technology to get the job done. We are a full-service, one-call wildlife nuisance removal service with over 20 years experience. You can count on our dedicated crew to safely and humanely remove the wildlife, repair the damage, and animal proof your home or business. That's our peace of mind service. Once you call Cowleys Pest Services for your wildlife removal needs, consider it an eviction notice for your unwanted guests.