Termite Control Services in Edison, Woodbridge, Lakewood, NJ
We offer the two top termite elimination systems on the market today!
What are termites?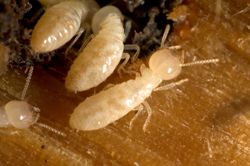 Termites are social insects that live in organized colonies similar to a beehive. Termite nests are highly structured communities where termites are split into two major groups according to their reproductive ability. The sterile termites are wingless blind workers and soldiers who stay underground to do the heavy lifting such as foraging and nest-building. Termites are "social cockroaches" that evolved from a common stem with cockroaches about 220 million years ago. Although termites are often called "white ants" because of their pale color, termites are developmentally related to cockroaches. In fact, ants are the primary predators of termites.
Termites can cause serious property damage to wood structures if not identified and removed quickly.
Termites are also grouped according to what they eat. These groups include grass-eating, subterranean, soil-feeding, dry-wood, and damp-wood eaters. The subterranean and dry wood varieties cause most of the damage to homes and buildings.
Termites eat dead plant material including cellulose and wood fiber. Man has replaced much natural vegetation with crops and homes all of which provide termites with substitute vegetation in one form or another. Termites are able to consume any wood-derived material including building timbers, books, and packing crates. If it is made of wood or paper, termites can eat it. Their capacity for destroying dead plants knows no bounds. They are notorious for the damage they can do to buildings and other wood products.
Customer Reviews
By Richard C.
Barnegat, NJ

"We were impressed with the very professional and concerned attention we..."

By JOSEPH V.
TOMS RIVER, NJ

"PLEASE USE ME AS A REFERENCE SOURCE AT ANY TIME!!"

By Heather G.
Manalapan, NJ

"We had a great experience with Cowley's. We noticed an improvement very..."

"New employee Jarred very professional extremely competent Very satisfied..."

"Give Rhett a raise he was thorough and didn't try to sell me anything I..."

"I have been using Cowley's for several years now and I have always been..."

By Jill O.
Piscataway, NJ

"Your employee knew much about mice and where to put the traps but was not..."

By MaryBeth S.
Mantoloking, NJ 08378, NJ

"Jim was very thorough and a pleasure to work with."

"Cowleys checked for termite damage and got rid of any active..."

"I don't need new gutters, but I am interested in gutter cleaning twice a..."

"We didn't realize that this service call was an "automatic" one..."

By Louis M.
Point Pleasant Beach 08742, NJ

"Very professional employees. Trained well."

By Charnie S.
Matawan, NJ

"scott and todd were terrific"

"Chris Morgan is awesome! Very professional, explained what he was doing..."

By Joseph L.
Spring Lake, NJ

"Suggest you modify email's to clients, most of mine went to spam, and I..."

By Nancy L.
Spring Lake, NJ

"Todd is an outstanding employee who has solved several pest problems at..."

"Please return to spray outside perimeter of home for bugs...was not done!"

"first time using your company and it was a good experience-had a lot of..."

By Joan T.
Union Beach, NJ

"From beginning to hopefully the end, I couldn't be more satisfied with..."

By Jill V.
Asbury Park, NJ

"Not only on time but a bit early! Very friendly and professional."

"You guys are very professional and know exactly how to take care of..."

"I was extremely satisfied from the minute I reached out, and continue to..."

By Heckman
W Allenhurst, NJ

"Your men do a great for me,.very happy with your service."

By Doris
West Long Branch K, NJ

"Anthony made a condition that was most disturbing one that we knew he..."
What do termites look like?
Termites are small, soft-bodied, and usually pale-colored. The antennae are relatively short, straight, and thread-like or beadlike. Flying forms have two pairs of wings of equal length. The wings are often much longer than the body; however, short-winged forms also occur. Unlike ants, termites never have a constricted "waist" or elbowed antennae.
Often, homeowners first encounter termites when the young reproductives swarm from the nest. The first question homeowners want to resolve is what they dealing with – termites or flying ants.
In search of detailed termite information?
Learn More!
Are you dealing with a termite infestation or looking for further education? Check out our in-depth termite technical papers by clicking the "Learn More" button!
What is the difference between a termite and a flying (winged) ant?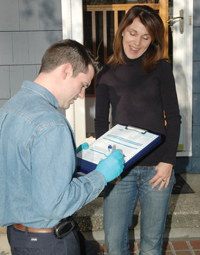 People often confuse swarming termites with flying ants. There are distinctive differences, however. In order to discern a termite from a winged ant, compare the visual biological differences:
Ants have a narrow, wasp-like waist (more "cinched" in the middle of the body). Termites do not have a defined waist. Ant wings are about equal to the body size, with the fore and hind wings of unequal length. Termites have four wings of equal length that are nearly twice as long as their bodies. Ant antennae are L-shaped, with a "bend," while termite antennae are straight.
Do you have termites or flying ants?
Take a look at the difference between a Termite and Flying Ant.
How can Cowleys eliminate termites from your home?
When choosing to work with the pest control experts at Cowleys Pest Services, customers have the assurance that the termite control solution used will be the one that is right for their situation and their home environment. By offering both Liquid Termiticides and Termite Baiting Systems, Cowleys Pest Services is able to discuss solution options that will eliminate your termites while meeting your needs.
Our professional termite exterminators offer New Jersey termite control throughout Monmouth and Ocean counties. We work in Edison, Woodbridge, Lakewood, Brick, Toms River, Piscataway, Trenton, Middletown, Princeton Junction, Old Bridge and nearby. Contact us today for a free inspection and estimate!
Offering the top two termite elimination systems on the market today!
Termites are covered under our Platinum Residential Service Plan