Cowleys Residential Protection Plans - Designed to Give You Peace of Mind.
If you don't want to see pests in or around your home, Cowleys Service Plans are the right choice for you. Cowleys Silver Service Plan covers 24 common pests and includes three preventative perimeter treatments in summer, spring, and fall, indoor treatments as needed, and unlimited service calls for covered pests in your plan period.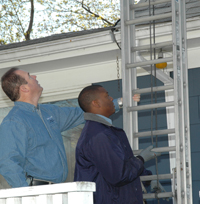 Service:
Free Pest Audit PLUS Annual Termite Inspection
During the winter season, we thoroughly check your home for termites and other hidden pests, mold, high humidity, sufficient attic insulation, and more, protecting your home and saving you from costly repairs. A full report is included.
Three Annual Treatments
A Cowleys Pest Services technician will inspect and treat the exterior perimeter of your home three times per year in spring, summer, and fall, including eaves, windows, doorways, and all entry points on the first floor of your home.
Unlimited Pest Service Year-Round
Our preventive treatments ensure your property is protected against many seasonal pests. We will treat the inside of your home as needed for all the pests covered under your plan.
Free Emergency Pest Control Service
If the pests covered under your service return, we'll come back during our normal business hours to re-treat the exterior perimeter of your home at no cost to you.
Pests Covered
Ants
Roaches
Boxelder Bugs
Ladybugs
Centipedes
Clover Mites
Earwigs
Elm Leaf Beetles
Millipedes
Pill Bugs
Springtails
Silverfish
Ground Beetles
Crickets
Spiders
Food-Infesting Insects
Carpet Beetles
Mites
Bees*
Wasps*
Hornets*
Yellow Jackets*
Rats
Mice
*And Removal of their Nests Attached to a Structure.
This Service Does Not Include:
Bed Bugs
Stink Bugs
Ticks
Fleas
All Wood-Destroying Insects (such as Termites, Carpenter Bees, Carpenter Ants, Wood-Boring Beetles, Powder Post Beetles)
Honeybees
Digger Wasps
Cicada Killers
Free-Flying Insects (such as Flies, Gnats, Mosquitoes, Foraging Bees)
All Wildlife
Service Dates:
Three scheduled service visits annually and unlimited service visits all year on pests covered under this plan.
SPRING SERVICE- April 1st - June 15th
SUMMER SERVICE- June 15th - August 31st
FALL SERVICE- September 1st - November 28th
Other Service Plans
Looking for a price? Get a no cost, no obligation free estimate.