Termite Bait Installation in Mercer, Ocean, Monmouth, Somerset, & Middlesex County, NJ
Safely Eliminate and Prevent Termites with the Sentricon System
A bait station is used to reduce subterranean termite populations.
The Sentricon® Termite Colony Elimination System provides continuous protection from termites, even against those that have not yet entered your property. With Always Active™ Technology, Sentricon® begins the termite colony elimination process without delay and offers continuous protection of your home around the clock. Because termites never rest, your termite treatment must never let down its guard.
Contact Cowleys Pest Services, your professional termite exterminator in Mercer, Ocean, Monmouth, Somerset, & Middlesex County, to schedule an on-site evaluation and cost estimate on the Sentricon termite bait system for your home.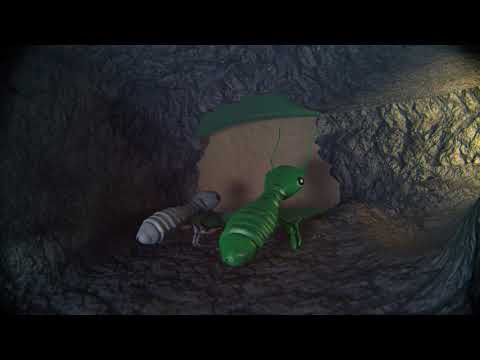 Sentricon Termite Bait System
Have you ever wondered how the Sentricon Termite Bait System works? Click the video above to see how your...
Watch Video
Related Videos
Your NJ Termite Bait Professional
Sentricon® is sold only through authorized pest control firms. Cowleys Pest Services is proud to be a certified Sentricon® specialist. Cowleys technicians have received extensive training on the installation and monitoring of the system and adhere to the rigid quality assurance standards required by the manufacturer. Any termite system is no better than the pest control service that installs and monitors it. Dow Agrosciences protects the Sentricon® name by carefully screening pest control companies. Only the best can be Sentricon® dealers.
How the Sentricon Termite Bait System Works
Sentricon® was designed to kill the entire termite colony, including the queen. A termite queen can live for 45 years and is capable of producing more than 150 million eggs during her lifespan. When the queen dies, so does the colony. Here's how the Sentricon system works:
Installation
After Cowleys inspects your property, bait stations are placed around your home. Utilizing Always Active™ technology, the Recruit® HD termite bait is immediately available.
Foraging
Termites prefer Sentricon's Recruit® HD bait 10 times more than wood. The worker termites quickly find and share the bait within the colony. Once ingested, noviflumuron, the active ingredient in Sentricon bait prevents the termites from maturing through molting.
Elimination
When the termites are unable to molt, the colony dies, and eventually so does the queen.
Protection
With professionally-installed Sentricon bait stations and on-going service from Cowleys, your termite control professionals, you'll get worry-free protection 24/7.
Termite Protection Trusted By Millions
The Sentricon® System, developed by Dow AgroSciences, is proven termite protection. According to the University of Kentucky Department of Entomology, the Sentricon® Termite Colony Elimination System is the most extensively tested professionally installed monitoring and baiting termite system on the market today. Based on research from independent universities and the U.S. Department of Agriculture, the Sentricon® system was able to stop termite damage that could not be controlled with conventional liquid methods because of certain construction complexities.
More importantly, Sentricon® has earned the approval of millions of homeowners based on real-life success. When the experts were deciding how to best protect our most treasured national landmarks from the White House to the Statue of Liberty, there was one uniform answer: Sentricon®. If you want peace of mind in protecting your most important investment, with Sentricon®, you have found it.
Key Benefits of Sentricon
No-Mess, No-Hassle Installation:
The Sentricon® System was designed to be less disruptive to your family, buildings, and landscaping than other termite treatments. No drilling in floors or foundations, no trenching around the home, no chemical tank trucks. You don't even need to be present for installation and service. Sentricon® is easy on you and easy on your home.
Safe Protection:
The Sentricon® Termite Colony Elimination System is the green way to protect a home from subterranean termites. Rather than surrounding your house with hundreds of gallons of diluted chemical solution, it strategically uses just a few grams of active ingredient in termite bait and works with the natural termite behavior to destroy the termite colony.
Environmentally-Friendly:
The Sentricon® System is designed to prevent environmental exposure and can be removed if desired. It's hardly surprising that it is only termite treatment to receive the Presidential Green Chemistry Challenge Award from the U.S. Environmental Protection Agency. It was also the first product to be registered under the Reduced Risk Pesticide Initiative.
The "Green" Choice for Termite Control in New Jersey
Sentricon® is environmentally friendly. If "green" is a top priority in choosing the right termite control product, Sentricon® may be the one for you. Because of the strategically placed monitoring stations, bait is applied only when and where needed.
As a result, the Sentricon® system uses only a few grams of active ingredient. Sentricon® bait is an insect growth regulator that stops the molting process in the termite's life cycle. The product is specific only to termites. Kids and pets are safe. Other non-targeted organisms such as birds, fish, and plants are also safe. Sentricon® poses no threat to groundwater and has no label restrictions for use around wells and cisterns.
Among its credentials, the bait in the Sentricon® system was the first termite treatment active ingredient accepted for registration by the EPA under the strict requirements of the Reduced Risk Pesticide Initiative. Also, Sentricon® is a proud recipient of the Presidential Green Chemistry Award. This award, one of the federal government top environmental honors, recognizes environmentally responsible chemistry. Sentricon® is the only termite control product to have ever received this award.
Get a Sentricon Termite Treatment Estimate
Termites are covered under our Platinum Residential Service Plan. We fix termite problems in Edison, Somerset, Lakewood and surrounding areas in New Jersey. Contact us today for more information and a price estimate!
Looking for a price? Get a no cost, no obligation free estimate.